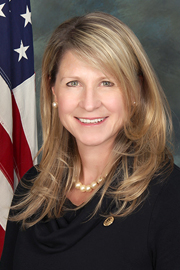 A Southern California native, Third District Supervisor Dawn Rowe was appointed to the San Bernardino County Board of Supervisors on December 18, 2018. Prior to her time on the Board of Supervisors, Dawn served on the Yucca Valley Town Council from 2010 to 2014, during which time she was selected by her peers to serve as Mayor.

After only a little more than a year on the Board of Supervisors, Dawn was overwhelmingly re-elected by Third District voters during the 2020 March Primary Election. As a County Supervisor, she successfully fought to keep a judge from releasing a sexually violent predator in her district, spearheaded the passage of the county's first Short-Term Rental ordinance to regulate desert vacation rentals, and protected rural communities from utility-scale renewable energy development.
However, Dawn cemented her status as a leading voice within her desert community long before her time on the Board of Supervisors. Whether it was advocating for increased Off-Highway Vehicle (OHV) access on public lands or eliminating burdensome regulations that stifle local economies, she has always been committed to positively impacting the communities in which she lives and represents.
Following the death of her husband, Marine Corps Capt. Alan Rowe, during combat operations in Iraq, Dawn became involved in land development to support her family. After experiencing a number of setbacks due to onerous land-use restrictions in her hometown, Dawn worked alongside her local elected officials to find creative solutions that paved the way for thoughtful development. Her tenacity and determination caught the attention of then-Mayor Chad Mayes, who appointed her to the Yucca Valley Planning Commission (2008-2010). Eventually, she was elected to the Town Council by Yucca Valley residents and served one term before stepping aside to spend more time with her children, Blake and Caitlin.

Due to her exceptional community involvement in the Morongo Basin, Dawn was brought on to the staff of then-Assemblyman Paul Cook (AD-65) as a Field Representative in 2008. She transitioned to his Congressional staff in 2012 when he was elected to the U.S. House of Representatives. As a Field Representative for Congressman Cook, Dawn was integral in negotiating a legislative solution that resulted in the protection of thousands of acres of popular OHV trails from closure due to the expansion of the Marine Corps Air Ground Combat Center in Twentynine Palms.

Dawn received a Bachelor of Arts in Journalism from Drake University and a Master of Science in Advertising from Northwestern University. She resides in Yucca Valley and in her free time enjoys taking advantage of the outdoor recreational opportunities that the Morongo Basin has to offer.